The 10-Step Korean Skincare Routine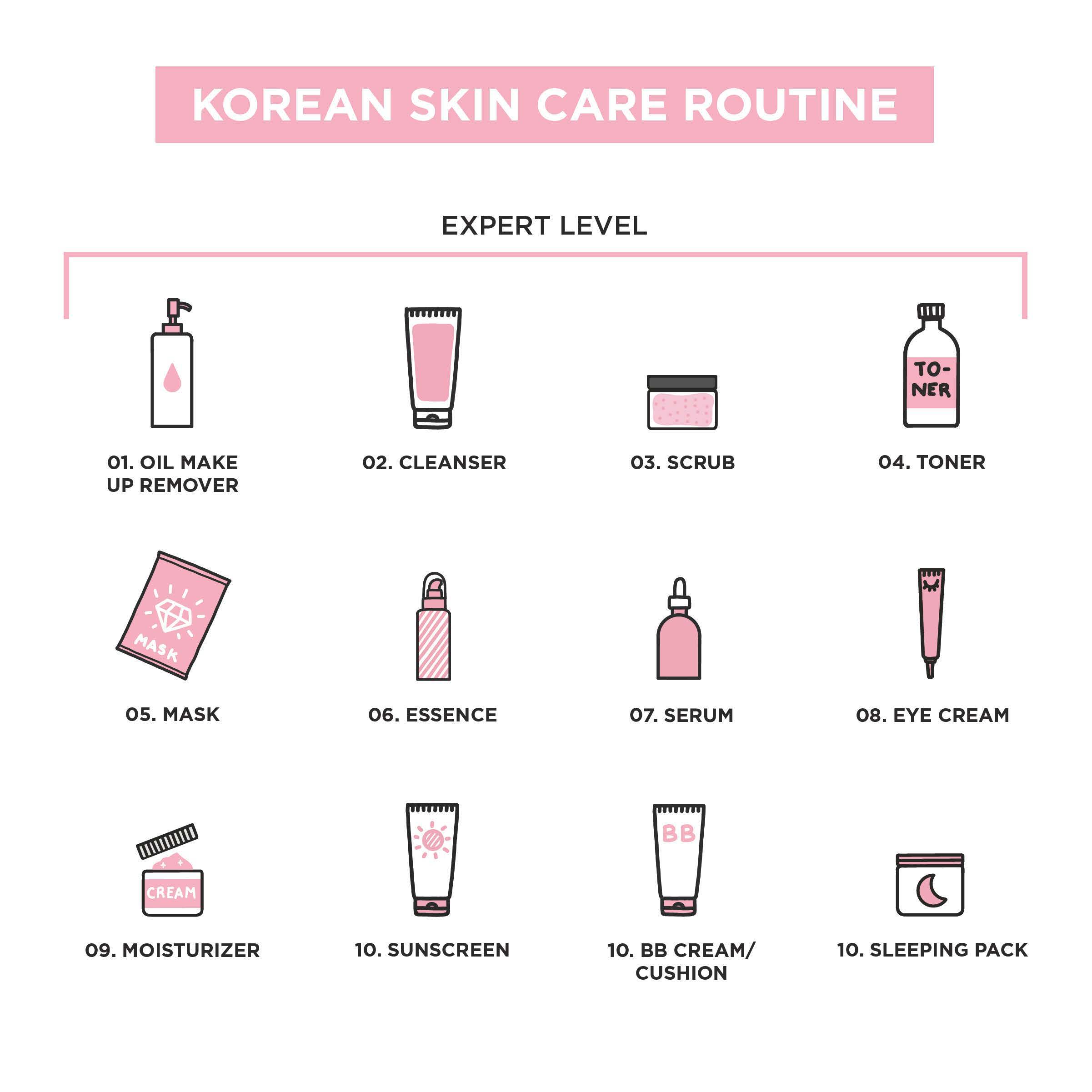 A beauty routine is a commitment for a healthy radiant skin. At Miin Trade you will find a wide variety of skin care products for wholesale for each step of the 10-Step Korean Skincare Routine.
An oil-based cleanser removes not only the most stubborn makeup but also impurities such as dust, oils and sunscreen from pores. Makeup removers come in many formats - as a cleansing oil, balm or stick and typical ingredients include vegetable oils such as jojoba seed, macadamia nut and coconut seed oil. 
A water-based cleanser as the name suggests is primarily made from water. This step eliminates makeup residue, perspiration and impurities. The MiiN wholesale collection includes facial soaps, cleansing foams and gel cleansers.
Using two types of cleansers, one after another is called DOUBLE CLEANSING. Combining an oil-based cleanser and a water-based cleanser will leave the skin extra clean and ready for the next beauty steps.
Exfoliators remove dead skin cells and improve the overall skin texture. There are two types of exfoliators - mechanical and chemical.
A mechanical exfoliator, typically a facial scrub, uses small particles to rub off dead skin. The recommended use is once a week on dry skin and twice a week on oily skin. For those that have delicate skin and suffer from acne, it's better to opt for chemical exfoliators which tend to be more gentle on skin.
Chemical exfoliators use acid-based liquids, most commonly AHA and BHA, which weaken the lipids that bond the top layers of skin together, thus eliminating skin cells. AHA are lactic acid, glycolic acid and vegetable enzymes from fruit extracts which treat wrinkles and pigmentation. For oily and acne-prone skin BHA is the best option as it contains salicylic acid that dissolves sebum and minimises pores. 
A wash-off cleansing mask such as a clay mask, peel-off mask or a bubble mask can also be enjoyed instead of an exfoliator
This important step returns skin to its ideal state by balancing its PH (acidity) level, hydrating and preparing the skin to get the maximum absorption of the products that get applied afterwards.
Single-use face masks define Korean cosmetics, with many varieties of masks available for each skin type, age and needs. Most commonly masks are classified into cotton masks (also known as sheet masks), hydrogel masks and bio-cellulose masks.
On the day a mask is used, steps 6 and 7 can be skipped as the treatment provided by a mask is very concentrated and already contains the ingredients commonly found in essences and serums.
An essence is a mixture of vitamins and nutrition that adds a layer of hydration to the skin and protects its natural properties. As an alternative to essence, a facial mist can also be applied right after a toner or at any time during the day, when the skin is in need of a touch of hydration.
A serum, also known as an ampoule, contains a high concentration of active ingredients that are designed to address specific concerns - improve appearance of wrinkles, brighten dark spots, rejuvenate tired skin and many more. A few drops of serum mixed into day cream can give a more prominent effect.
Eye creams are specifically designed for the delicate skin around the eyes which can be up to 5 times thinner than skin elsewhere on the body. They usually contain a high percentage of active ingredients which help to treat wrinkles and brighten dark circles.
As an addition to any skincare routine, we recommend the use of hydrogel eye patches.
A moisturiser can come in the form of a lotion, sometimes referred to as an emulsion, or a face cream. Lotions are much lighter and less dense than creams, so they absorb more rapidly - perfect for oily or combination skin. 
Step 10. 

Sunscreen

/ Sleeping Pack
Sunscreen is the ultimate skin care secret of Korean women and deemed as the best anti-ageing product. In addition to SPFs, Korean sun care also offers protection through a type of filter - a chemical / organic filter or a physical / mineral filter. The MiiN wholesale sun care collection includes translucent creams, tone-up creams, BB creams, cushions, and sun sticks.
For a night-time routine, the skin can be treated to a sleeping pack. It's applied twice a week at bedtime instead of a moisturiser and left to work overnight, maximising the nocturnal process of skin regeneration. 
--------------------------------------------------------------------------------------------
We recommend selecting a variety of skin care products that you can offer your customers so that they can effectively tackle their skin concerns and use products created specifically for their skin type. You can advise your customers that it's best to start with a few key products so that the skin can adjust to a new regimen and natural active ingredients before they introduce more steps into their daily routine.
THE MUST-HAVE STEPS YOU CAN RECOMMEND YOUR CUSTOMERS TO FOLLOW FIRST:
1. Cleanser - removes impurities and makeup.
2. Toner - restores the skin's natural PH level.
3. Moisturiser - nourishes the skin and tackles wrinkles.
4. Sunscreen - protects the skin from sun-damage which causes dehydration, pigmentation and wrinkles.
Our account managers are only an email away to help you decide which Korean skin care products would gently introduce your customers to the Korean beauty routine. If you would like to have a complete overview of all Korean skin care products you can purchase at wholesale prices, then please have a look at our B2B skin care collection.